Hiring a Tree Service Professional
When it comes to tree removal, unless you absolutely certain you know what you are doing, it is essential you hire a professional to handle this service. In addition to the need for extensive training working at heights requires, there are a number of other fluctuating circumstances causing potential risks that only a trained professional is prepared for.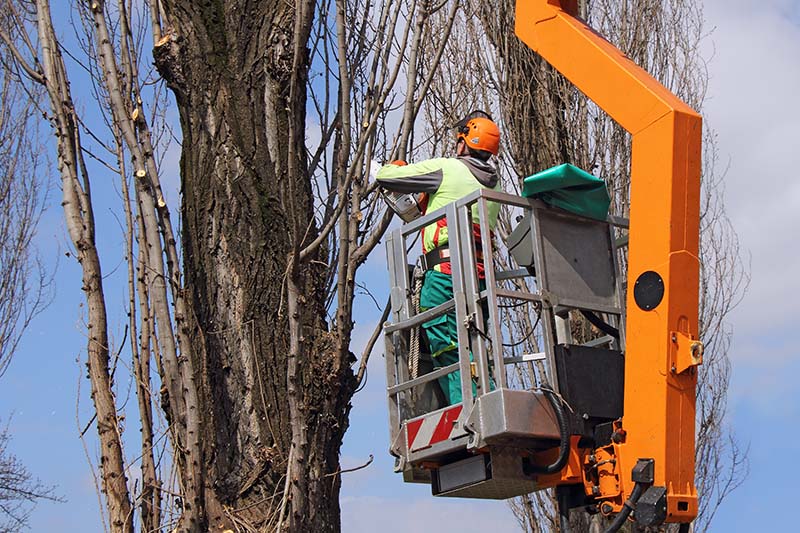 When should I have my trees removed?
Because consumers want to ensure they are spending their money wisely, one of the most prominent questions asked is when a tree should be removed? Ask yourself the following questions:
Do you see extensive damage on the tree from the ground? Elimination of a tree should occur when at least 50% or more of the tree is damaged. While the tree deteriorates, it could potentially survive for multiple years. However, its appearance could become abnormal in addition to its growth.
Do you see vertical seams or cracks in the trunk? These issues, as well as stubs from dead branches indicate decay is occurring from within the tree. If these issues are occurring on less than 25% of the circumference of the tree's trunk, the internal wounds should heal themselves over a period of time. However, if more area of the trunk is covered, this is indication of severe damage and the tree should be eliminated.
Are the roots able to stay upright on their own? A stable root system can stand upright on its own, otherwise there are problems. Such problems include decayed, missing, or dead root systems. The tree could become a potential hazard if this is the case and it should be removed.
Is the tree leaning too much? Some trees do have a natural lean to them, however this could be an indication that the tree is dying or that it is already dead. The tree could fall at any time if it is not supported properly, therefore it is a potential hazard and should be checked to see if it needs to be eliminated.
When was the last inspection performed on the tree's canopy? A licensed arborist typically performs this task because they can find hard-to-spot decaying or dead branches that are not visible from the ground.
Are roots affecting irrigation or concrete? There are two ways to approach this issue. You can ask the tree removal service to eliminate the tree. A more tree-friendly approach is to see if an asphalt ramp can be built around or over the root system.
Removing different tree species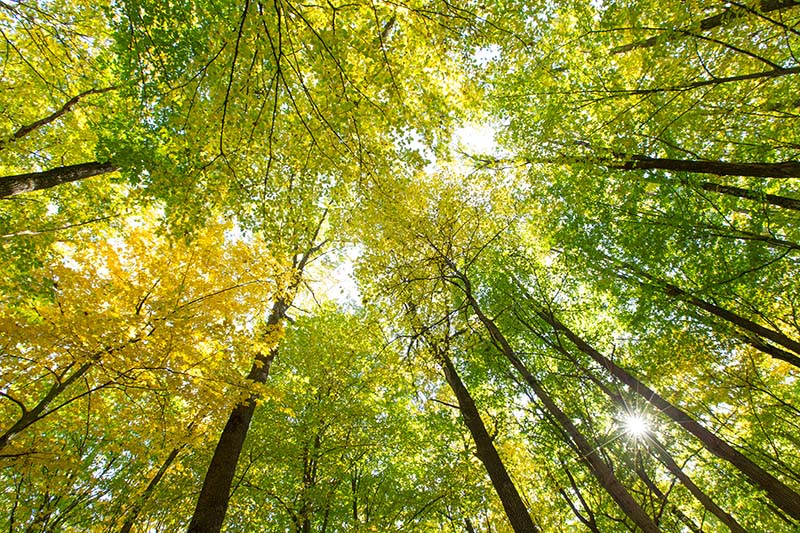 There are a number of different species of trees a removal service will tackle for you, each ranging in different sizes as well as costs. Here are some of the most popular trees a removal service has experience with:
Oak: these trees are among the strongest and thickest wood, which also makes them some of the most expensive to remove. They range around 80 feet and cost around $400 - $1,000 to remove.
Pine: smaller varieties of this tree are the cheapest to remove so, keep in mind, the taller the tree gets the more costly is it to eliminate. The price of this tree removal is generally $200 - $1,500.
Black mulberry, Dogwood, and Russian Olive: these are all considered small trees and are 30 feet or less. They cost around $125-400 to remove.
Black Alder, Black Gum, and Crabapple: these are all considered medium trees and are between 30-60 feet tall. They cost between $175-900 to remove.
Red Oak and Black Locust: these are considered large trees and are between sixty to eight feet tall. They cost $400-1,000 to remove. American Ash, Bur Oak, and Sugar Maple: these trees are what is considered extra-large and range between 80-100 feet. The cost for removal of these trees is typically $950 - 1,400 or more.
What add-on costs can be expected?
There are certain occasions where add-on costs occur due to emergency circumstances, such as storm damage or other issues. For example, residents can expect to pay more if a tree near their home experienced a lightning strike. This is due to the fact that the tree removal service must eliminate the tree faster and there are risks associated with this removal. Another add-on cost could be from a fallen tree near a home due to a storm that would require the tree removal service to rent a crane to eliminate the tree. Consumers should expect costs to rise each time any risks are involved with the elimination of trees.
How to choose the right tree removal service
Consumers want to get the biggest bang for their buck, and with good reason. There are a number of contractors out there claiming to be experts, offer the most services for the least amount of money, and so on. So, how do consumers really know they are choosing the right tree removal service for their job? Here are some tips:
Check with the Better Business Bureau: even though every business isn't listed with the Better Business Bureau, this is a good place to start. Are they accredited through the BBB? What kind of rating do they have? Are they in good standing? Use this information as a jumping off point for your research.
Insurance verification: this is such an important step because, if the tree removal service does not have the proper insurance in place, you are liable if something happens. Look for general liability and worker's compensation. Their insurance agency should send their verification certificates to you directly. If the tree removal service gives you any problem regarding this request, you may be dealing with an issue of fraud.
Look at their reputation: look within the local community to thoroughly research the company's reputation. Are they a member of any trade associations? How many years have they been in operation? Check online for any complaints within discussion groups and forums. For more expensive jobs, request references from the company.
Obtain three estimates: it's always best for the sake of comparison to obtain three estimates. That way you have three contractors to personally meet with, research, and see pricing breakdowns for.
Find Tree Service By State