Pest Control Cost Guide
Bugs and other household pests are not just annoying; they can cause destruction and disease. While some insects have a definite purpose on this earth, it is hard to justify their existence when the creepy, crawly, nasty critters invade your home. Really, if it has more than four legs... it should stay outside. The same rule applies to the four-legged array of critters when they haven't been invited. Getting rid of bed bugs, cockroaches, mice, and other pests is not easy, but it can be done with a bit of determination and an experienced pest control company.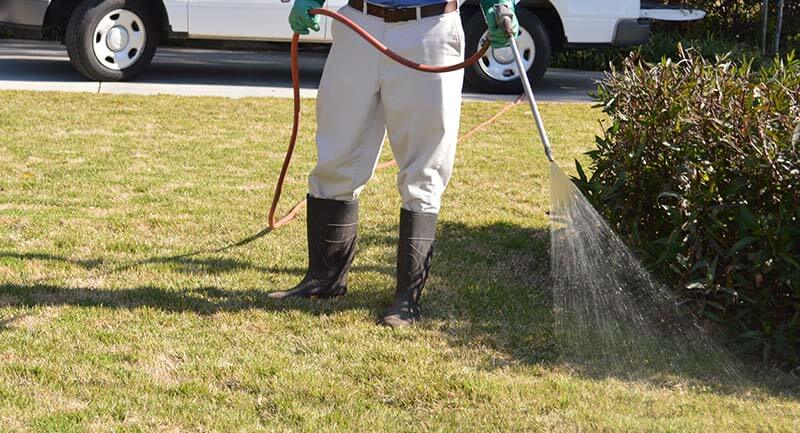 What are the most common types of pests?
Unwanted pests that commonly take up residence in the home include:
Bed bugs
Silverfish
Spiders
Mice
Ants
Rats
Termites
Fleas
Cockroaches
Earwigs
Types of Pesticides or Traps Used to Eliminate Pests
Eradicating a bug or rodent problem is a tough job. Most pest control companies now use an Integrated Pest Management, or IPM, approach. Technicians schooled in IPM use a thorough understanding of pest identification and behavior to wipe out the pest problem. This is done using multiple methods of detection and elimination.
Bed Bugs

Bed bugs are difficult to eradicate. A combination of physical removal through cleaning and vacuuming, chemical treatment with proven pesticides, and heat treatment with steamers and thermal remediation machines is the best attack tactic for this blood-sucking bug.

Spiders

Spiders are beneficial because they help reduce the insect population. Because most residual sprays do not work well on spiders, techs recommend removing or killing spiders as you see them. If you have a large amount of spiders, sorbtive dusts can be used. Sorbitive dusts stick to the spider's waxy coating and cause dehydration leading to death.

Ants

Ants can be treated with chemicals, but the first line of defense is food source elimination. If that doesn't stop the problem, bait stations are used. Ants collect food in the stations and take the chemical-laden meal back to the colony where, hopefully, the queen will feed.

Termites

Termites need to be treated with non-repellant insecticides and insect growth regulators (IGR). An IGR prevents juvenile termites from maturing, eventually stopping the reproduction cycle of the colony.

Cockroaches

Cockroaches should be approached using all available IPM techniques. Chemical treatments include gel baits, bait stations, and insecticidal dusts. Cockroaches have developed a resistance to most chemical sprays, so use of these are discouraged.

Silverfish

Silverfish can be eliminated using a combination of inorganic dusts and pyrethroid sprays.

Mice

Mice can be trapped using glue boards, traditional snap traps, enclosed electrocution traps, or live traps. Bait stations containing an anti-coagulant are also used to eliminate infestations of mice.

Rats

Rats, similar to mice, can be trapped. While bait stations are also an effective route of eradication, a rat that hides within your wall cavity then dies could present a smelly situation.

Fleas

Fleas are a nuisance to both humans and pets. An aerosol or spray containing an IGR is effective in treating indoor areas for fleas. Pets must also be treated with an approved product to stop the life cycle of the flea and prevent future infestation.

Earwigs

Earwigs are best removed or prevented, as an indoor chemical treatment is not an effective approach to stopping an earwig problem. Spinosad sprays are somewhat effective outside the home.
How Are Pests Getting Inside My House?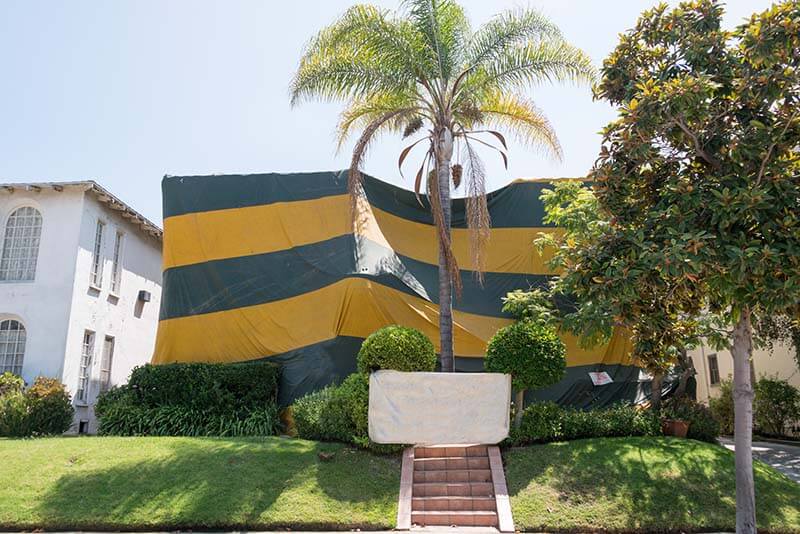 Some pests, such as spiders, silverfish, ants or earwigs, enter the home through cracks in the foundation. Termites build a special structure called a shelter tube to make entrance to the home. Mice and rats can fit through openings as small as 1/4" and 1/2" in diameter, respectively; meaning that gap under your door could provide just enough room for a furry critter in search of warmth and food.
Bed bugs and cockroaches often stow away in backpacks, suitcases, and even purses; then they set up shop when you get home. If you visit an establishment with a bed bug problem, avoid bringing any personal belongings with you. Cockroaches can also come home with you in shopping bags. Fleas are typically brought in on pets, but can also hitch a ride on a resident mouse (as can a bed bug).
Health Risks of Pests in the Home
Some pests cause significant health issues. Many people are hesitant to use pesticides in their home, but the risks must be measured against the benefits when pests have the potential to cause a medical problem. The IPM approach was created to eliminate pests in a way that presents the least amount of danger to humans and the environment, however no chemical treatments are without risks.
According to the National Center for Healthy Housing, fecal matter from cockroaches can aggravate asthma. Cockroaches also spread germs and parasites that present human health hazards.
Bed bugs themselves have been cleared as a direct source of health problems, but they don't get a free pass here. When the itchy bites they produce are scratched open by bacteria-ridden fingernails, infection sets in.
Mice and rats are hazardous too. The CDC provides a list of diseases transmitted by rodents, which includes leptospirosis and the plague (yikes). Pesticides used to eliminate these pests can irritate the endocrine system, eyes, lungs, central nervous system, and skin. Some pesticides are known carcinogens. To reduce the threat of health problems, only trained professionals should use potent pesticides.
Cost of Hiring a Pest Control Service
Most pest control companies offer free, in-home estimates. To get an exact cost for services the tech needs to see the size of your home, the life stages of the pests, and the extent of pest damage.
Approximate Costs for Pest Control
| Description | Small Home | Mid-Size Home | Large Home |
| --- | --- | --- | --- |
| General Service | $35 | $52 | $70 |
| Cockroach Service | $183 | $291 | $446 |
| Bed Bug Treatment - Heat | $1200 | $1650 | $2750 |
| Bed Bug Treatment - Spray | $367 | $455 | $526 |
| Mouse Control | $225 | $300 | $395 |
Choosing the Right Pest Control Company
Choosing a pest control company that is well versed in using regulated products is crucial to your health and safety. The EPA regulates the use of pesticides because of the potential for peril. If applied properly, pest control products are not only effective; the benefits of use outweigh the risk of disease from pests. In the wrong hands, however, pesticides can wreck havoc. A good pest control company doesn't just do their job, they do it right. Ask these five questions before you hire a pest control company:
Are you licensed? You can verify a pest control company's licensing status by contacting your state's regulatory board.
Are all of your technicians certified? While the pest control company operator is typically the license holder, the technicians providing your service should at least be certified in the application of regulated products.
Are you insured? Worker's compensation and liability insurance provide protection if an accident occurs while a service is being performed on your property. Even if your state does not require pest control companies to maintain these policies, it is in your best interest to hire an adequately insured company.
What is My Problem and How Will You Handle It? The pest control company you hire should inspect your home, identify the problem insect or rodent (along with the life stage of the offending critters), establish a written management plan, and give you a firm quote on costs.
Do you offer a guarantee? If the company says yes, ask for the promises in writing. Many pest control companies will come back free of charge if you see pests between scheduled visits.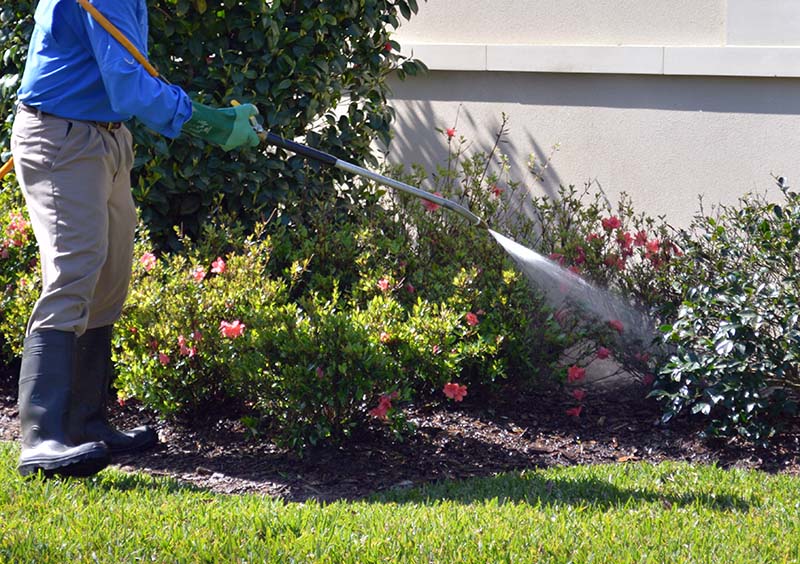 After you get answers, dig into the company's history. Find out how long they have been around. Perhaps your neighbors have used the company before and could provide some insight on the quality of services. Check their rating with the BBB. A pest control company with a proven track record is the one you want in your home.
When rodents or insects take over, the only way to obtain control is by declaring war. It might be messy, it might get unruly, and it might even involve deployment tactics. It is not a job for the faint of heart. Most of the time, you will have to call in the troops. But it will be worth every effort when are finally able to take your turf back.
Find Pest Control By State